Which Garage Door is right for me?
Glass Fibre Garage Doors
Roller Garage Doors
Sectional Garage Doors
Side Hung Garage Doors
Steel Garage Doors
Timber Garage Doors
Sister Company
If you require assistance with your commercial entrances, please call our sister company

01379 677627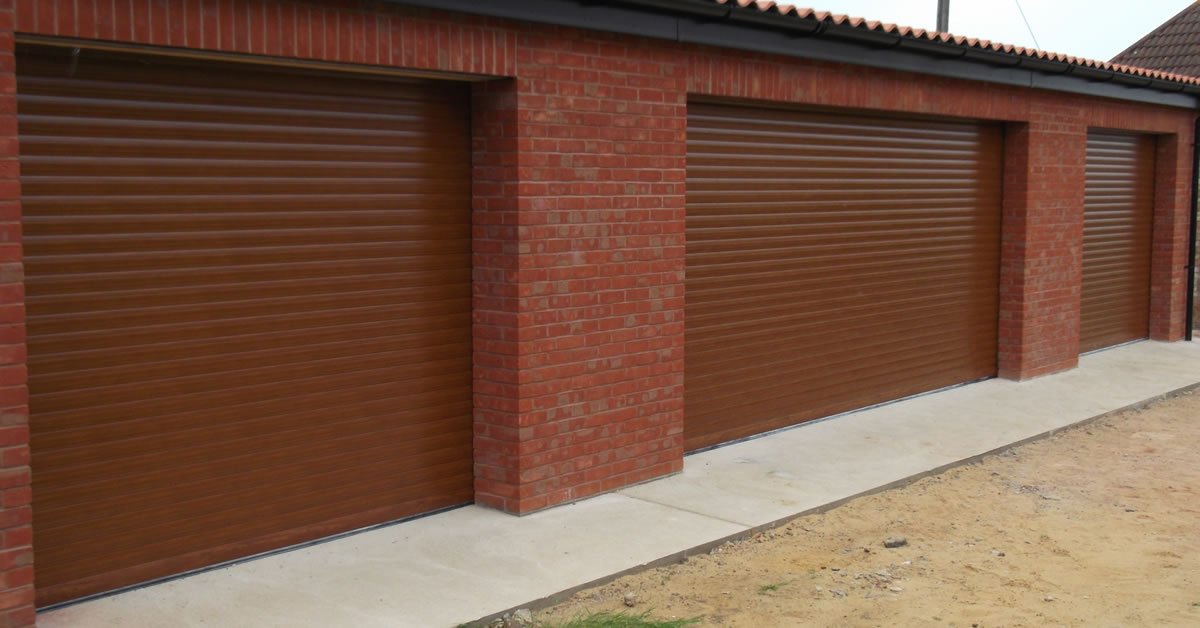 Roller garage doors from Chapel Doors Ltd - Supplying Brands such as Alluguard, Garador, Cardale and Hormann
Here at Chapel Doors we have been installing a wide range of roller shutters garage doors for a number of years. Our made to measure insulated & single skin roller garage doors give you space saving vertical operation allowing you to drive right up to the garage door, thus eliminating the need to leave space for the outswing of an up and over garage door. Roller garage doors fit directly to the brickwork giving increased width & minimising maintenance. With a variety of colours and finishes, roller garage doors are a great option if you have minimal space.
Roller garage doors benefit from double walled insulated aluminium or steel single skin sections that offer great strength, security & insulation to your home. As they are fitted with a rubber seal they close flush so no more drafts or autumnal leaves blowing in from the drive. Roller garage doors can also benefit from automation, allowing you to open at the touch of a button to avoid getting wet when it is raining... well we do live in the UK!
If you would like to see our full range, please call us for a FREE site survey, where we can go over all the options and give you a comprehensive quotation.
---
Why Choose a Roller Garage Door?
The roller shutter garage door is one of the neatest garage door solutions available with vertical operation and no internal tracking mechanism in your garage at all. This ultimately provides you with more room on your driveway for parking and the option for additional storage space above where a standard up & over or sectional door would normally open. Roller Garage Doors provide plenty of space in front of and inside the garage. You can drive directly up to the door for parking and the ceiling area of the garage remains available. Roller Garage Doors are ideally suited for garage door automation and due to their nature, can be customised to any size.
Conveniently opens with the press of a button
Clean appearance enhances the look of your home
Automatic locking on closing, no leverage points
Maintenance free, no painting ever required
Safety device monitors obstructions
Increased width and headroom when frame is removed
Fully insulated from the weather
No out-swing, no need to move your car to open the door
Please click here to request a Roller Door Sample.



Fitting Behind the Opening
The diagram aside the typical installation position of a roller shutter door when installed inside the structural opening of the garage. When fitted like this the maximum width and height is normally achieved although a loss of garage length has to be considered.






Fitting Inbetween the Opening
The diagram aside shows a roller shutter garage door fitted inbetween the structural opening and would normally mean fitting underneath the lintel as well. This position is quite normal but will not give such a wide drivethrough width or height when open.






Fitting Outside the Opening
The diagram aside shows the roller garage door installed outside on the front face of the garage opening. This is unusual but gives maximum length, width and height in most cases. A complete hood cover is required to protect the curtain roll and this will need powdercoating along with the guides and endplates to complete the visual appearance.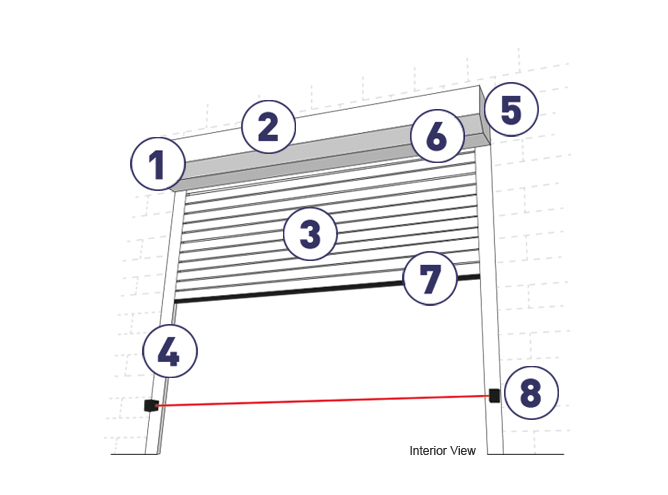 Electrically Operated

Powered by a fully CE compliant, single phase 240 volt tubular motor with a built-in manual override facility allowing the door to be operated manually in the event of mains failure.
Canopy

QualSecure is the only UK manufactured garage door supplied with a full canopy as standard, giving additional strength to the construction of the door whilst shielding moving parts. The use of a canopy is undoubtedly more aesthetically pleasing. (Dimensions: 300mm x 300mm)
Profile

Premier Garage Doors are manufactured from a heavy duty, twin wall, CFC free foam filled aluminium profile. The use of foam provides strength and proven insulation values, reducing heat loss and exterior noise. Certified U Value of 4.73W/m2 K.
Guide Section c/w Brush Strips

Our deep, heavy duty guide section provides safety and security against high winds and would-be intruders. The two brush strips protect the curtain from unnecessary wear and ensure smooth operation whilst also reducing heat loss and exterior noise.
Safety Brake

The fully CE compliant anti-fallback device prevents the door from freefalling when in the open position in the unlikely event of a motor failure.
Auto Locks

These heavy duty, anti-lift devices offer security against would-be intruders by preventing the door from being opened when in the fully closed position.
Bottom Profile

A heavy duty extruded aluminium bottom profile complete with a deep rubber seal provides additional strength and protection against adverse weather conditions.
Photocell

The photocell detects physical obstructions by projecting an infra-red beam across the door opening. If the beam is interrupted whilst the door is in motion, the photocell will stop and reverse the door automatically.



Safety
Safety is a fundamental concern with roller doors. Roller doors work on a chain system but at all times all moving parts are covered over meaning no trapped fingers. Our roller doors are fully CE compliant and can come with a leading Safety Edge collision detection and Anti-Fallback devices where required, meaning your garage door wont close on you or your car.




Style
Wide range of low maintenance colours, including textured woodgrain finishes to exactly match the latest generation of UPVC windows and doors. Tough paint finishes withstand daily knocks and bumps.






Space Saving
A tight coiling curtain design and discreet optional hood covers maximize the drive-through height of your garage - ideal for larger vehicles such as 4x4s or people carriers. There is no intrusion into overhead storage space within the garage, and without the kickout of traditional 'up and over' doors you can park safely inches from the door.






Security
Due to the nature of rollers doors, their are no handles. All moving parts are generally inside and always covered making an attempt to break in difficult. The makeup of roller doors make them incredibly strong and tough.






Insulation
Insulated foam-filled slats, combined with superior guide rail inserts, bottom slat rubber seals and a curtain that finishes higher than competitor designs.
Entrance

Opening
Contact Us Now