Which Garage Door is right for me?
Glass Fibre Garage Doors
Roller Garage Doors
Sectional Garage Doors
Side Hung Garage Doors
Steel Garage Doors
Timber Garage Doors
Sister Company
If you require assistance with your commercial entrances, please call our sister company

01379 677627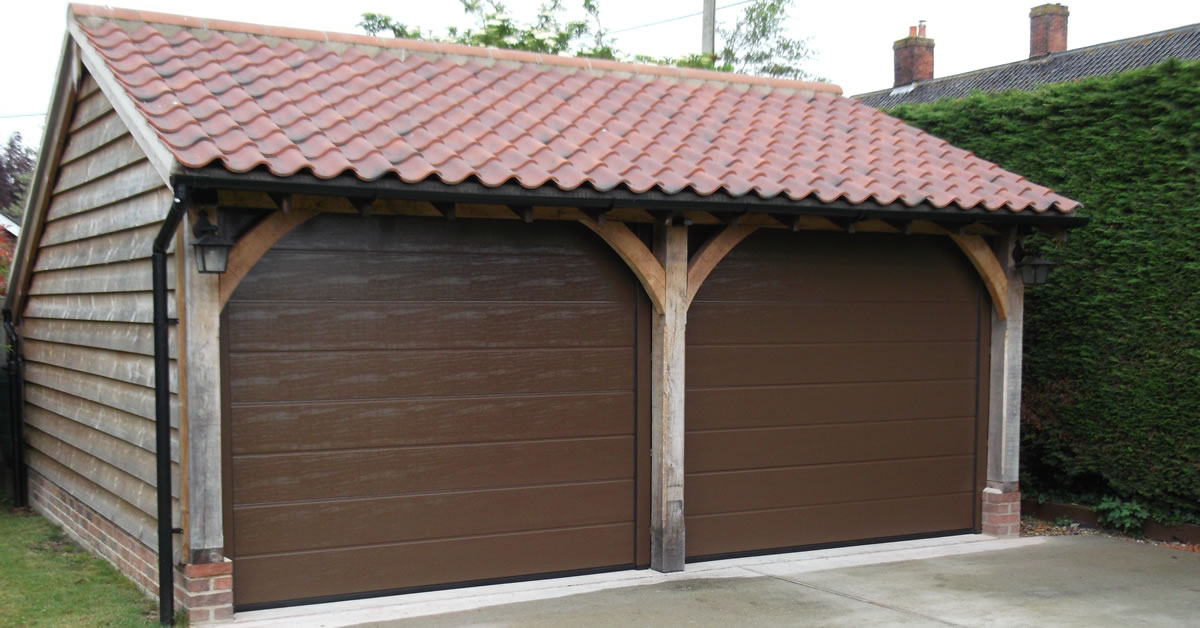 Glass fibre garage doors installed across Norfolk and Suffolk
Here at Chapel Doors, our highly trained engineers have been installing glass fibre garage doors for a number of years.
Glass fibre is the perfect choice for many homes. Manufactured from a modern composite laminate, it is versatile and a well-proven construction material, offering a very low maintenance surface. They are also available in a wide range of finishes from a smooth white gloss to a wood grain effect.
We have a wide range of doors for you to choose from, all made to measure for your specific requirements. As you will see we have detailed a sample of the range we offer, but if you would like to call us to arrange a FREE site survey, we can then discuss your exact requirements and provide you with a comprehensive quotation.
We look forward to hearing from you.
---
Why Choose a Glass Fibre Garage Door? - From Brands such as Hormann
If low maintenance is an important factor to you, a Glass Reinforced Polyester door is just what you're looking for. Highly popular, easy to maintain and it will give you the long-lasting elegant look and character of genuine timber. GRP, often referred to as fibreglass, is a strong and durable material. The GRP door leaves are secured within a dark brown or white open-for-infill frame ensuring long-term stability.
There are many beautiful styles to choose from in the Hormann GRP range of garage doors offering the choice from the rustic designs to modern panels that give the feel good factor of natural timber.
All the GRP doors are prefinished at the factory in a choice of beautiful colours as shown below which offer long lasting durability to weathering, dirt and UV. A fibreglass garage door should look good for years.
There are many beautiful styles to choose from in the Hormann GRP range of garage doors.
Did you know glass fibre doors are lightweight and maintenance free?
Fibreglass garage doors are maintenance-free and attractive. Available in smooth gloss white or a wide range of woodgrain colours/textures, giving a very authentic wood look. Available in popular standard sizes as well as made-to-measure sizes. Sizes from 5ft wide to 16ft wide. Numerous classic and modern styles to suit a wide variety of tastes and property types.
Glassfibre is woven glass thread and resin combined. The GRP door panel is bonded to a steel chassis, giving it strength. The quality and thickness of the GRP used and the quality of the steel chassis determine the price and quality of the overall door.
Fibreglass garage doors are ideal for coastal and damp locations where steel and wood rot quickly. GRP (Glass Reinforced Polyester) garage doors are renowned for their strength, stability and resilience. They are durable enough to withstand rust, splitting or rot and can endure harsh weather conditions, as well as minor bumps and knocks without compromising the security or appearance of your garage door.
Fiberglass Garage Doors
GRP or fibreglass garage doors are the perfect lightweight, maintenance-free material for the construction of high quality, long lasting garage doors. They come in a variety of styles
GRP garage doors are available in a white gloss finish, or if you'd prefer a more traditional finish you can choose from our range of realistic wood grain designs. Our wood grain GRP doors imitate the beauty and appeal of real timber, but offer the benefits of a modern, maintenance-free finish.
Benefits of GRP Garage Doors:
Value for money
Very versatile
Materials: GRP (Glass Reinforced Polyester) or ABS plastic
Large array of colours
Automation available
Contact Us Now